Ranger Magazine
The Ranger magazine is the leading authority in free range production. Published monthly by the British Free Range Egg Producers Association it is available to members in printed format and digital download. To access back issues you have to be a member of the Association.
To join click 'Join BFREPA' in the menu above.
December 2023
This month, we have experienced a range of highs and lows, from the high of BFREPA Live 23 to the caterwauling of dismay on depopulation, Lion Version 8, and the RSPCA standard.

Starting with the positives, BFREPA Live 23 was an overwhelming success. How nice it was to see so many producers attend. Close to 800 registered for the conference, and 650 participated in the gala dinner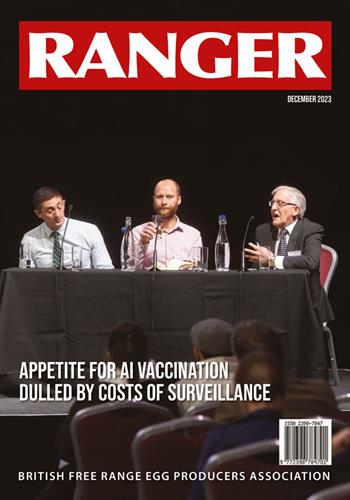 Conference 2023
As I am sure most of you know, this event marks the first time BFREPA has organised our annual free range conference and dinner after many fantastic years with BOCM Pauls and ,then ForFarmers.

It is a proud moment for BFREPA that we can host this meeting at the Telford Exhibition Centre, and we hope to build on the foundations laid in previous years.

We have thrown the kitchen sink at this event and packed it full of relevant content appertaining to the challenging years that our industry has faced. With over 80 stands, I am sure there is something for every producer.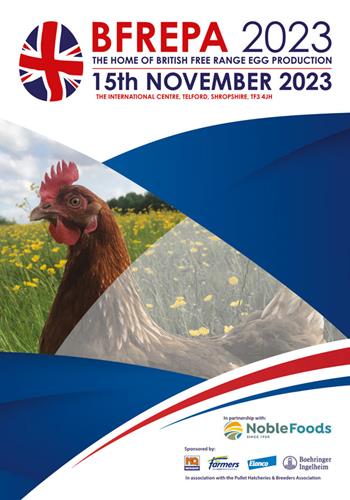 November 2023
Free range producers are, by their very nature, welfare-centric. The time each producer spends daily focusing on the flock's welfare is unparalleled.

So it hurts every one of us when we wake to headlines that depict the industry in any other light. We are at the mercy of catching gangs on this particular issue - there will be lessons to learn on how we monitor gangs we allow on our farm, and I am sure end-of-lay will come under increased scrutiny over the coming weeks.