BFREPA are delighted to host the 2023 National Free Range Show at the Telford International Centre on Wednesday 15th November 2023,
in association with the Pullet Hatcheries & Breeders Association
,
in partnership with Noble Foods
, and sponsored by
Newquip
,
ForFarmers, Elanco
and
Boehringer Ingelheim
.
We will be using Hall 3, which allows us to hold everything in one space and provides greater flexibility for everyone.
The centre is a disabled-friendly venue with everyone being able to access all public areas of the event.
There is ample car parking on site and exhibitors will be sent two car parking passes free of charge as part of their package.
Wi-Fi is available for internet browsing during the event.
Exhibitor packages include two one-day delegate packages, which include two servings of tea/coffee, a bacon roll on arrival and a two-course hot fork lunch. Additional day delegate packages can be added on request.
Timetable
Tuesday 14th November:
The event hall will be open from 11am until 10pm to set up stands.
Exhibitors employing their own stand builder can access earlier than 11:00am on request. Please contact
kate@bfrepa.co.uk
to make arrangements.
Wednesday 15th November :
The event hall will be open from 8:00am for exhibitors to access stand, and opens to the public at 9:00.
Speakers:
1

0:15
Welcome from James Baxter, Chairman of BFREPA
10:20
A message from our Conference Partner, Noble Foods
10:30
AI Vaccination chaired by Robert Gooch, BFREPA CEO and panellists:
Gordon Hickman from APHA, Dave Hodson from Rosehill Poultry & Ian Lowery from Crowshall Veterinary Services
12:00
James Baxter – My AI journey
12:30
Gary Ford - Our Lion Code
14:00
Ralph Bishop – Nutritional Strategies for extending the laying cycle
14:30
Charles Macleod – Water: unavoidable necessity or vital nutrient

15:00
Nick Bailey – Going White
16:30
BFREPA AGM
Trade stand breakdown can commence at 4:30pm and must be concluded by 10pm.
The BFREPA Awards dinner starts at 7pm for pre-dinner drinks, with a view to sitting down at 7:30pm.
Conference Guide
Click the image below to view the Conference Guide.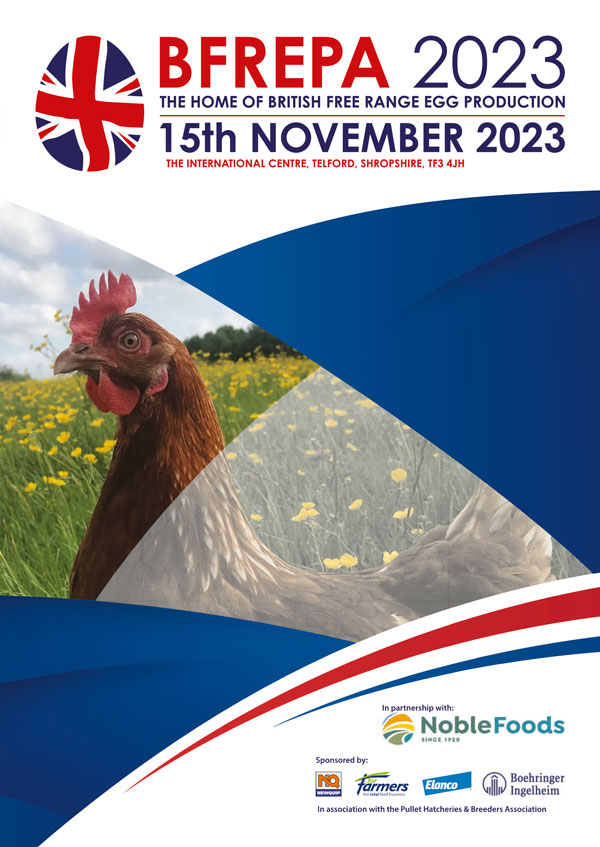 Sponsored by: